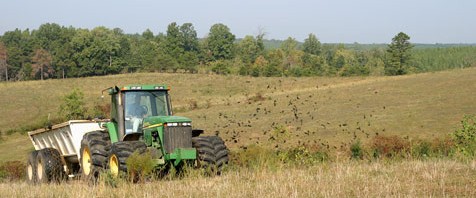 Our commitment and support of biosolids recycling is based on the following:
It's safe. This is supported by overwhelming scientific evidence and over 40 years of practical experience.
It's good for the land. Agriculture application and composting of biosolids benefit the environment by recycling valuable nutrients and soil conditioners.
It's good for family farms. The land application of biosolids benefits family farms by enriching soils and increasing farm productivity and sustainability.
It helps preserve rural open space and protect the Chesapeake Bay.
Exceptional Quality biosolids benefits homeowners' lawns and gardens and commercial landscapes by improving soils and plant growth.
Our membership includes municipal wastewater treatment facilities that clean the waters of Virginia communities, companies that recycle biosolids for gardening and home use, and companies that apply biosolids to agricultural fields and forests throughout Virginia.
Code of Good Practice
All members of The Virginia Biosolids Council subscribe to a voluntary Code of Good Practice to provide guidance for recycling biosolids in Virginia.
The guidelines seek to capture current best practices by biosolids generators, land application companies and compost manufacturers and encourage them to go beyond the regulations" to build good relations with the communities they serve.
Each member has pledged to communicate the Code to its employees and strive to implement its principles throughout its operations.
The Code encourages members to establish their own performance objectives that support the following goals:
Protecting the environment
Minimizing adverse social impacts
Promoting education and awareness