The Virginia Biosolids Council (VBC) Code of Good Practice has been providing guiding principles to its members for more than a decade. This annual report provides a progress report on how the Council's membership — all of its members — performed under these guiding principles. This update is provided annually.
The Council's membership includes representatives of municipal utilities in Virginia and metropolitan facilities in Washington and Maryland that beneficially recycle biosolids in Virginia. Municipal facilities treat wastewater and produce biosolids which are recycled and beneficially reused by contractors. Our organization was established to educate the public and to provide information on the production, beneficial use and recycling of biosolids.
Member commitment to our Code of Good Practice requires an ongoing effort to go beyond compliance with Virginia's extensive regulatory requirements for biosolids. It also addresses the need for social responsibility and transparency to the public. Most recent modifications to our Code include a commitment to research high-priority trace organics and to support the development of good policy and regulations; to minimize social impacts and to share technologies and practices; and to engage with diverse communities, citizens and interested stakeholders.
Click HERE to read the 2021 Annual Report for Code of Good Practice of the VBC in full.
Click HERE to view the 2021 Code of Good Practice.
Click HERE to view the 2022 Code of Good Practice.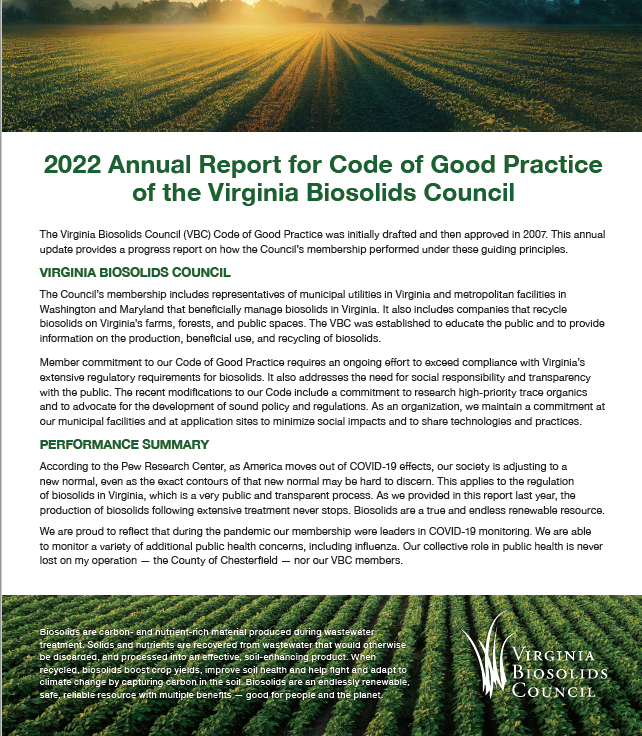 2021 Annual Report for Code of Good Practice for Virginia Biosolids Council
2020 Annual Report for Code of Good Practice for Virginia Biosolids Council
2019 Annual Report for Code of Good Practice for Virginia Biosolids Council
2018 Annual Report for Code of Good Practice for Virginia Biosolids Council
2017 Annual Report for Code of Good Practice for Virginia Biosolids Council
2016 Annual Report for Code of Good Practice for Virginia Biosolids Council