Creamfield Farms is about 4,000 acres of row crops, primarily corn, soybeans, and wheat, with rape, canola seed, grain sorghum and hay. Creamfield's land extends across state lines into North Carolina.
Like many of today's farmers, Grayson Kirby, manager of Creamfield Farms, focuses his attention on research and technology to guide the management direction of his work – and that includes the use of biosolids as an important component of his farm management.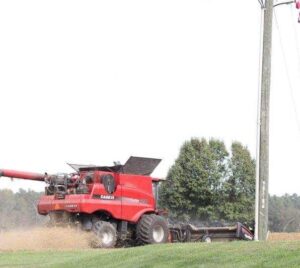 Essential to modern farming is the use of precision agriculture technology. "The use of technology in ag is no longer just about new software," Kirby said, "it's a platform that provides valuable information that farmers can use to make decisions to improve their decision making from start to finish to increase efficiency, productivity, profitability, sustainability, and yields." It's important that a farm access all of the resources and tools that are available, he said.
Kirby gained first-hand experience with nutrients when he permitted farms for biosolids use. "Having the experience in permitting gave me some background in understanding the value of research and on the ground experience in advance of my management decisions," said Kirby. Before any seed is planted, he spends time researching and analyzing soil and field data to make sure that decisions related to fertilizer – including biosolids – provide the best environment for growth and harvest. The data that is provided by precision ag technology helps him make the decision that will sustain his fields and yields the best crop. All of this translates to profitability.
While he would like to use biosolids across his farms, his decisions are based on what is most favorable, based on his soil and crops.
As Kirby said when discussing the value of biosolids, soil samples tell the story!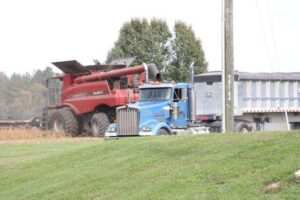 According to Virginia Tech, the physical, chemical, and biological benefits derived from biosolids organic matter are numerous and can have lasting beneficial impacts. The benefits from the addition of biosolids-borne organic matter improve stimulates microbial and plant growth and improves water infiltration, mitigating the impacts of large rain events, and represents a major opportunity for carbon sequestration through adding stable organic matter and the promotion of both above- and below-ground plant growth. All of these are vital to soil health and sustainability.
For Kirby, farming is not only a livelihood for himself and his family; it is a passion but can be stressful. "It is a labor of love, filled with all sorts of dynamics. It isn't an easy venture to enter, requiring capital for equipment, land, and so we who are farming are dedicated to continuingwhat we have, to providing food and fiber for the world," he said, adding that the whole process of farming, and everything that goes into it, is enjoyable. "If you start at 100 percent and the weather lines up, you can feel like you did a good job and you know that harvest will bring better yields, you'll capitalize on market rallies. It is a challenge to be on the leading edge," Kirby said.
He said he challenges himself to stay on top of the new technology, trends, to examine different programs and decide what is worthwhile, profitable to monitor and utilize. Making sure he understands fully the use of biosolids is important too, and taken together continue to stay sharp and utilize all of the resources available to make sure Creamfield's farming operations continue well into the future.