The Annual Virginia Ag Expo returns to Corbin Hall Farm on August 5, 2021.  Situated on nearly 2,000 acres in Middlesex County, Corbin Hall Farm is a wealth of history and an innovator of field days. From those early days it has now evolved into the annual Virginia Ag Expo. 
Corbin Hall Farm has increased from its original size of 60 acres of farmland on its original King's Grant to more than 1,500 acres of productive farmland, and nearly 2,000 in total when its forestland is included.  It is bounded by the Rappahannock River to the east, La Grange Creek to the west, and Weeks Creek to the north; there is almost seven miles of land located along waterways.
Ronnie Russel has been managing the farm for generations.  With the support of Corbin Hall Farm's owners, including that of former owner Mr. Rufus Harrell and his wife Mrs. Louise Harrell, and now Mrs. Rachel Hurley Kittrell, Mrs. Sarah Grace Hurley, and Mr. Trip Hurley after the recent passing of their father Mr. Walt Hurley, Russel has expanded the farm operations, invested in new equipment, technology, and buildings.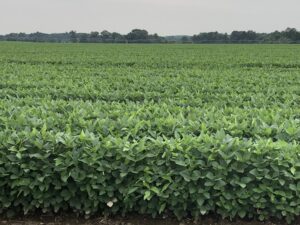 With an eye on soil health, nutrients, environmental stewardship, productivity and yield, this historical user of biosolids, Corbin Hall Farm is known for its award-winning corn yields and commitment to this beautiful tract of land which nourishes crops from corn to soybeans, wheat and barley, and beef cattle too.  "I understand my responsibility to the productivity of this farm, its legacy and the role this farm plays in protecting the rivers and land that surround us," he said.  "Using a variety of conservation practices, such as nutrient management plans, no-till soil conservation, and improved crop management have only benefited our crop yields."
In addition to successful management, in the 1970s, Corbin Hall Farm has been a leader in the industry.  Mr. Rufus Harrell and Mr. L. B. Wilkins held the first of many larger field days which have now evolved into the Virginia Ag Expo.  These well-attended events hosted statesmen, including Virginia Governors, Congressmen, Commissioners of Agriculture, and leadership from our neighboring states as well.
Each year the event grew, featuring field plot tours, a tented lunch and, of course a signature hat, for each guest, providing a forum for farmers, landowners, extension, and industry to share information on best agriculture practices as well as showing off the latest equipment, research, and technology. While technology has evolved, smart farming, precision agriculture and incorporating alternative sources of nutrients such as biosolids and other commercial organic soil additives remain critical to the environmental stewardship, productivity and ultimate preservation and sustainability of the farm. 
Although his dog Dixie is no longer by his side, Russel's commitment to the land has never wavered.  "I have always treated this land as my home, a little more than home," he said.  Russel now encourages a new generation with his nephew taking the reins of the farm.  He is poised to lead Corbin Hall Farm forward to the future of smart farming while remaining a constant steward of the land.