Located in south Arlington, the county's Water Pollution Control Plant (WPCP) treats approximately 23 million gallons of wastewater each day from residences and businesses, with nearly 20 percent of the plant's flow coming from Alexandria, Fairfax and Falls Church.
The high-quality effluent water is released into Four Mile Run, a short distance from the Potomac River.
As part of Arlington's continued commitment to renewable resource recovery, the facility is initiating a new focus on modernization while maintaining their role as a sustainable member of the community.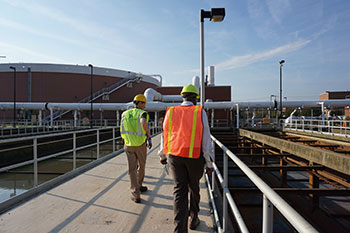 A 10-year plan adopted in 2018 by the Arlington County Board will utilize new technology to develop the next generation of solids treatment processes while replacing aging equipment and infrastructure. These new processes will convert wastewater residuals into clean, safe fertilizer and renewable natural gas.
The plan will also ensure that the biosolids comply with future regulations while generating renewable energy and recovering a nutrient-rich and marketable product.
"Management of biosolids is a foundational requirement of any water resource recovery facility, and while we were reviewing all of our process options during our multi-year study, our goal was always to be able to beneficially use the nutrients we capture as a marketable and valuable product in our biosolids," said Tom Broderick, plant manager. "We are committed today to the safe and beneficial use of biosolids, and when we complete our upgrades to the facility we believe our biosolids will benefit both urban and agricultural landscapes," he said.
During the three-year process of evaluating a variety of processing technologies, Thermal Hydrolysis Pretreatment with Anaerobic Digestion (THP/AD) emerged as the best solution for the backbone of Arlington's solids treatment process.
THP/AD uses high temperature and pressure to break down wastewater residuals and produces a highly stable Exceptional Quality Class A biosolids material. Class A biosolids have undetectable pathogen levels and can be applied like any other registered fertilizer on lawns, gardens, parks and golf courses in urban areas based on soil nutrient recommendations for plant growth.
Benefits of the THP/AD process include:
Solids reduced by 50% resulting in less truck traffic and hauling costs
Pathogen free, Class A product
High-quality soil amendment available to agriculture and community
Lower product odors
Natural gas generated by the process can be reused onsite for power generation or offsite for vehicle fuel
Proposed facilities fit within existing plant site
Fewer chemicals needed
Potential for future phosphorus harvesting can be considered
While the planning process is complete, design and construction will occur in phases over several years. In the meantime, several updates to the plant will be made to optimize, repair or replace aging equipment. Design of the THP/AD system will likely begin in 2020, Broderick said.
"This is an exciting time as Arlington prepares for Thermal Hydrolysis Pretreatment with Anaerobic Digestion to be in service around 2027," he said.
Please click here for more information on Arlington's facility and its solids plan.