While a thriving bird habitat at the treatment ponds at the Roanoke facility might seem surprising, the national bird watching community has long recognized that wastewater treatment facilities attract significant populations of local and migratory birds.
The local Roanoke Bird Club conducts an annual Christmas Bird Count and around the mid-1970s, a member "discovered" a significant population of local and migratory birds at the facility.  Many of the species that can be observed at the facility are typically associated with more tidal and estuarine habitats found along the coast hundreds of miles east of Roanoke.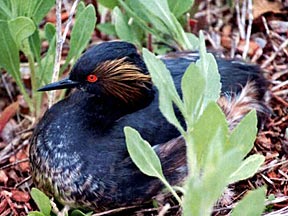 Since the discovery of the significant population at the facility, the Roanoke treatment facility has been a preferred bird watching site in the Roanoke Valley.  The site offers a great diversity of sightings, with over 62% of the avian species documented for Virginia observed there, including a number of rare species. Over the years, more than 242 species of birds have been documented.
In order to ensure visitor safety and facility security, permits for birding are required (at no cost). Two permit options are available, either temporary or permanent, with both applications available at the main office, 1502 Brownlee Ave, SE, Roanoke, VA 24014 (540-853-1283).
Normal access hours are Monday through Friday from 7 am until 5 pm.   Saturday and Sunday outings can be arranged, but must be scheduled at least 48 hours in advance.  As a component of the permit process, facility staff conducts a brief safety orientation, which includes information on preferred spots to bird while visiting.
Two observation platforms are being built at the site to provide excellent vantage points for the most popular bird locations.  While the permit program is recent requirement, over 76 temporary permits have been issued, with permit holders often visiting on at least a monthly basis.
The facility regularly coordinates with the Roanoke Valley Bird Club and arrangements can often be made to help visitors connect with experienced guides for the facility.
The Western Virginia Water Authority provides wastewater treatment service to more than 120,000 customers in the City of Roanoke, Roanoke County and Franklin County.