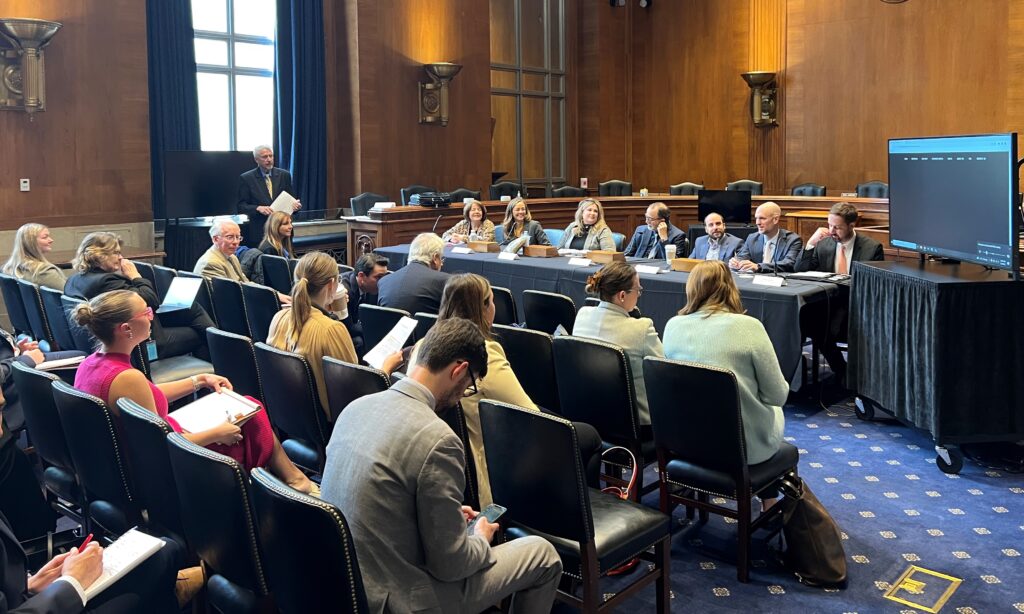 Recently, several members of the Virginia Biosolids Council attended a Congressional briefing examining the water sector's challenges in treating and protecting the public and environment from PFAS exposure. Experts from academia, drinking water, biosolids and wastewater sectors, presented underlying science, state of the art technologies to treat these chemicals, and applicable management practices that can protect the public and the environment.
The briefing was sponsored by the Coalition of Recyclers of Residual Organics by Providers of Sustainability (CRROPS) so congressional staff can better understand the systems and process better, and the science, to fully understand how the development of federal policies to address PFAS chemicals in the environment intersects with these important public functions. The briefing was held in Washington, D.C.
Panelists included Dr. Linda S. Lee, Professor of Agronomy, Purdue University; Maile Lono-Batura, Director, WEF Biosolids Sustainability; Holly Kiser, a full-time and multi-generational farmer in Maryland; Chris Peot of DC Water and a VBC Board member; Chris Moody, Regulatory and Technical Director, American Water Works Association; Dan Hartnett, Chief Advocacy Officer, Association of Metropolitan Agencies; and Jason Dadakis, Executive Director Water Quality and Technical Resources, Orange County (California) Water District.
Dr. Linda S. Lee, Professor of Agronomy, Purdue University provided an explanation on how PFAS was developed over several decades. During the discussion, Dr. Lee noted that the presence of PFAS is ubiquitous in the environment, and that the actual pathways of exposure needed to be understood to ensure that any policies address the key sources of PFAS exposure. She concluded by saying it is imperative that PFAS be regulated to eliminate nonessential uses and to ensure that we focus on source control.
Chris Peot of DC Water and a VBC member, noted that DC Water has successfully treated and produced a high quality biosolids product that is used safely for landscaping and agricultural purposes. On the issue of crop PFAS up-take, science has illustrated the reality that biosolids is not a problem.